Motorcycle riders from across the IAM rode 1,700 miles down the Pacific coast to raise more than $50,000 for the union's favorite charity, Guide Dogs of America.
The Kourpias K-9 Classic honored the legacy of the late George Kourpias, a labor legend who served as IAM International President from 1989 to 1997. Kourpias passed away in December 2019 at the age of 87.
The ride was supposed to start in Canada on June 6, but instead began in Mukilteo, WA due to Canada's COVID-19 border closing. The route continued south to the Los Angeles area, where motorcycling Machinists arrived five days later at Guide Dogs of America's headquarters in Sylmar, CA.
IAM General Secretary-Treasurer Dora Cervantes and Aerospace General Vice President Mark Blondin were among nine motorcyclists who rode a scenic route that included Interstate 5 and several stops in Oregon and northern California.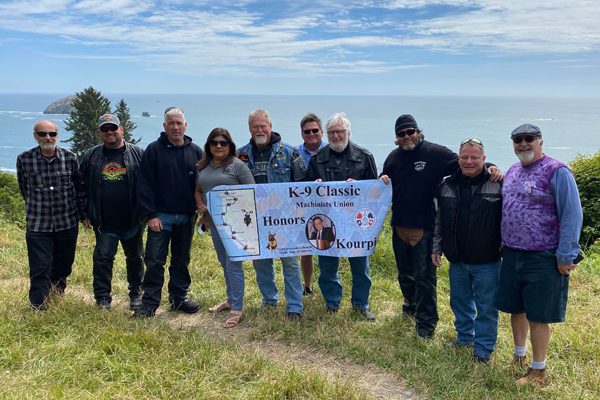 "During these extraordinary times in our country with the COVID 19 pandemic, we cannot forget the visually impaired individuals in need of these remarkable guide dogs that will bring them a sense of comfort, normalcy and independence to their lives," said Cervantes. "I was extremely humbled to be part of this ride with my Brothers and Sisters, knowing that we are, and will continue to provide assistance to those in need, especially now when we feel times are so uncertain."
"Former International President George Kourpias would be very proud to have his name associated with this event, as he was an avid supporter of GDA," said Blondin. "GDA President Russ Gittlen, the IAM Executive Council, and all the riders and volunteers are extremely grateful for the contributions to GDA and to the Kourpias K-9 Classic. As one of the only fundraisers this year, the money is sorely needed at GDA."
On June 10, motorcyclists gathered at IAM Local 946 in Rancho Cordova, CA, where IAM Western Territory General Vice President Gary R. Allen, organized a celebration for what would've been Kourpias' 88th birthday.
The inaugural event was sponsored by IAM District 751, Locals 63 and 946, and corporate partners such as Clackamas, OR-based Scott Wealth Management.
Contributions are still being accepted and can be made by clicking here.
Since its founding through donations by the IAM in 1948, Guide Dogs of America has helped blind men and women recover their ability to move freely and regain independence through partnership with these remarkable animals.
The post Machinists' Kourpias Motorcycle Ride Raises More Than $50K for Guide Dogs appeared first on IAMAW.